Everything you need to know about Amazon Music for Artists, the platform's new features and some tips on how you can get your music onto Amazon Prime as well as official Amazon playlists and stations. 

First things first, if you haven't already, you need to claim your official artists profile. To do this it's really simple: 
Head over to the Google/Apple app store and Download the App
Follow the instructions and get verified
If you distribute music through CD Baby you can integrate it now
Submit and await confirmation email
You're good to go
Amazon's Tiers - What does this mean for your Music streams?
Amazon Music has 3 music tiers: 
Amazon Free and Amazon Prime music are currently the most popular tiers. Both tiers include a pick of around 2 million hand-curated songs, the free version containing ads and not requiring a subscription, while Prime coming with an Amazon Prime subscription. 
Amazon Music Unlimited is Amazon's premium music subscription, with over 50 million songs, no ads, unlimited skips and there's also an option for the listener to upgrade to HD for higher quality audio.
With Amazon Music Free and Prime containing a catalogue of the 2 million most listened to songs on the Amazon platforms, this is where you want to be trying to get your releases onto. However, streams on Amazon Unlimited fetch higher payout per stream so it's important to consider the pros and cons. 
For example, if a listener without an Amazon Music Unlimited subscription asked Alexa to play your song and your music was placed only on the premium tier (50 million songs) then Alexa won't be be able to play your song. 
By getting your music added to Amazon Prime, your listeners are guaranteed to hear your music, and even better if they are listening from a premium account, you can expect a higher payout per stream... 
Read on to find out how you can get your music added to Amazon Prime Music further down. 
The App.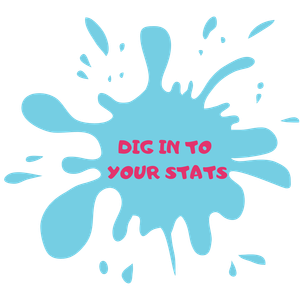 The interface of Amazon Music for Artists is broken down into five areas: 
Overview
Songs
Fans
Voice
Programming
All of these areas help to analyse your music's performance and help to tell you different things about how your music is being interacted with. 
I'm going to quickly run through what each of them are and how they can help you learn more about the engagement with your music. 
Overview

The overview is like the home page of the app. 
It gives you a general view of how your music is performing on a whole in terms of: 
Total Streams
Total Listeners
Album performance 
Ratios 
You can also choose the timescale of how you view these factors. For example, over the last 24 hours, the last 7 days or custom dates. 
This means you can measure growth over specific periods of time, which you can correlate with activities you have been doing such as marketing campaigns and performances, to gain an understanding of how you are driving your streams. 
When I say ratios I mean the source of where the streams are being placed on the Amazon Music platform, whether it be: Stations, Playlists, User Libraries and playlists or Search and Browse. These are displayed as a percentage. 
Songs



This part of the app allows you to analyse in more detail the analytics of individual tracks. 
You can scroll through your full released catalogue's performance and even see your very own top charts. By tapping on a song you are able to see its total streams and listeners for your chosen period, as well as any Amazon playlists and Stations that they are placed on (more on them soon...). 
Again you are able to gain an insight of how listeners are interacting with your music through the ratios I just mentioned, but this time more specifically, for each individual track. 
It's important to focus on trying to grow a strong percentage of user generated and search related source of streams as these are streams from listeners finding you as an artist organically. These are your 'best' type of streams as they are coming from listeners who are finding you directly - meaning your music promotion and music marketing is working.  
Obviously, it's great to get lots of streams from Playlists and Stations, but remember these sources of streams are great while they are flying, but they can always dwindle fast!  
Fans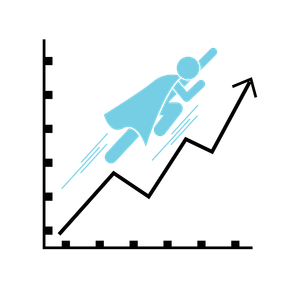 In Amazon Music an artist has two types of more highly engaged listeners: 
Fans are followers who are actively returning to your Amazon Music Profile within the month, listening to your music, adding you to their libraries and playlists. 
Superfans absolutely LOVE you. They are a small group of super passionate fans and, on average, they drive about a a third of your streams. 
I'd love Amazon to come up with some more ways in which artists can directly engage with their most valued listeners (cough Jeff Bezos if you're listening) but there is already a pretty cool feature for releasing new music. 
When you release new music, if your Fans/Superfans have an Alexa, their Alexa will light-up yellow on release day. If they then ask their Alexa "What are my notifications?" Alexa will tell them about your music and they can start listening. Like I said, pretty cool. 
In the Fans section, the app also tells you the top countries in which your music is being played, over the last 60 days. This is great data to use when running targeted ad campaigns on platforms such as Facebook Ads. If you know where you need to increase listenership, then you know where to advertise. 

Voice 
Now this is probably our favourite part of the App, that being the Daily Voice Index. 
Here you can see your level of voice requests compared to related artists in a similar genre and at a similar level to you. 
The bar ranges from Cool, through to Warm, Hot and ON FIRE. 
When you're "On Fire" it means you are receiving significantly more voice requests than other related artists, and you can pop the Prosecco open!
You are also able to understand how listeners are requesting your music, is it by your Artist name? Song title? Or are they uttering lyrics to part of your song in the hope that Alexa plays it?
This will information will help to inform how you decide to market particular songs when planning your marketing campaigns for your releases. By gaining an understanding of the words your fans are using to find your music, you are then able to develop your music promotion around slogans your listeners are familiar with.
Ai technology is transforming the way people are listening to music, especially with the rise of Amazon's 'Alexa' and the "Google Home mini'. It's so important that you make some time to go over your metadata (especially when releasing new music) and make sure it is all correct so that Alexa can find your music when listeners request it. 
Programming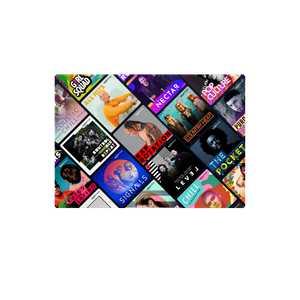 The final part of the app's interface, and tells you how your music is being discovered on a whole. 
In this area you can track and measure the growth of your tracks on various Amazon playlists and stations. 
Amazon Playlists and Stations are huge assets for driving your listenership, but what's the difference between them? 
Both sets are handpicked by Amazon Music curators however there are some big differences in the way they function. 
Amazon Playlists are fixed lists of songs of which curators can choose any type of playlist they make, e.g "Traditional Nursery Rhymes", "Top Children's Music", "Best Dinner Songs". These playlists are updated regularly, with higher performing tracks ranking on more popular playlists. 
In contrast, Amazon Stations are a curated mix of top songs in a genre, mood , theme. This means unlike Amazon playlists, stations will go on forever unless you stop the music. Examples could be a station that plays "Children's Music" or "Tech House". Songs are rated either heavily, moderately or lightly. The most popular songs at their peak being played more in the station while light songs could be on their way out or up.  
This means that in stations there is more gradual growth and decline in your tracks, while on Amazon Playlists there can be sudden spikes if your music is added to a playlist, however the adverse of this is just as dramatic. 
Latest features - Amazon Music for Artists
As Amazon Music for Artists is a pretty new platform, there are constant developments to the platform. 
The most recent, and probably biggest change, is the desktop version that they have now made available. We have been longing to see this for a while now as although the App boasts solid features, it is much easier to analyse large bits of data through the desktop. 
With this big move, I'd like to see some features where artists are able to download reports off the platform as a CSV file (like on Cd Baby) so that they can be put into spreadsheets. I do believe we will see more of these features now Amazon Music for Artists is desktop compatible. 
Another cool thing about the desktop version, is that they've made it SO much easier to change your artist profile image and banner. Previously, to change these you had to contact Amazon by email with your images and this created long wait times. Now however, you can see your artist images updated, with in 24 hours of changing them. Well done Amazon!
How to Get Your Music On Amazon Playlists and Stations
That's right, there's always a way! Just like on Spotify for Artists where you can fill in a mission form to pitch your songs to playlists, Amazon Music offer the same opportunity (that is also a lot quicker than Spotify). 
Another advantage is that, unlike Spotify, you are able to send music to be considered that has already been released. As you may know you can only pitch music to Spotify pre-release and only if the music has never been released on the platform. Amazon Music's programming team do not limit you in this way.
All you have to do is submit the music you wish to be considered to the email below. Make sure you include your song info such as Artist Name, track name, label, track length and genre/s. Although they don't ask for them, I would recommend including your ISRC code/s if you have them as the more info you give them the better!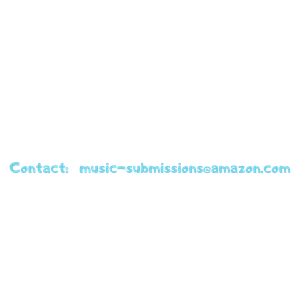 Get Your Music on Prime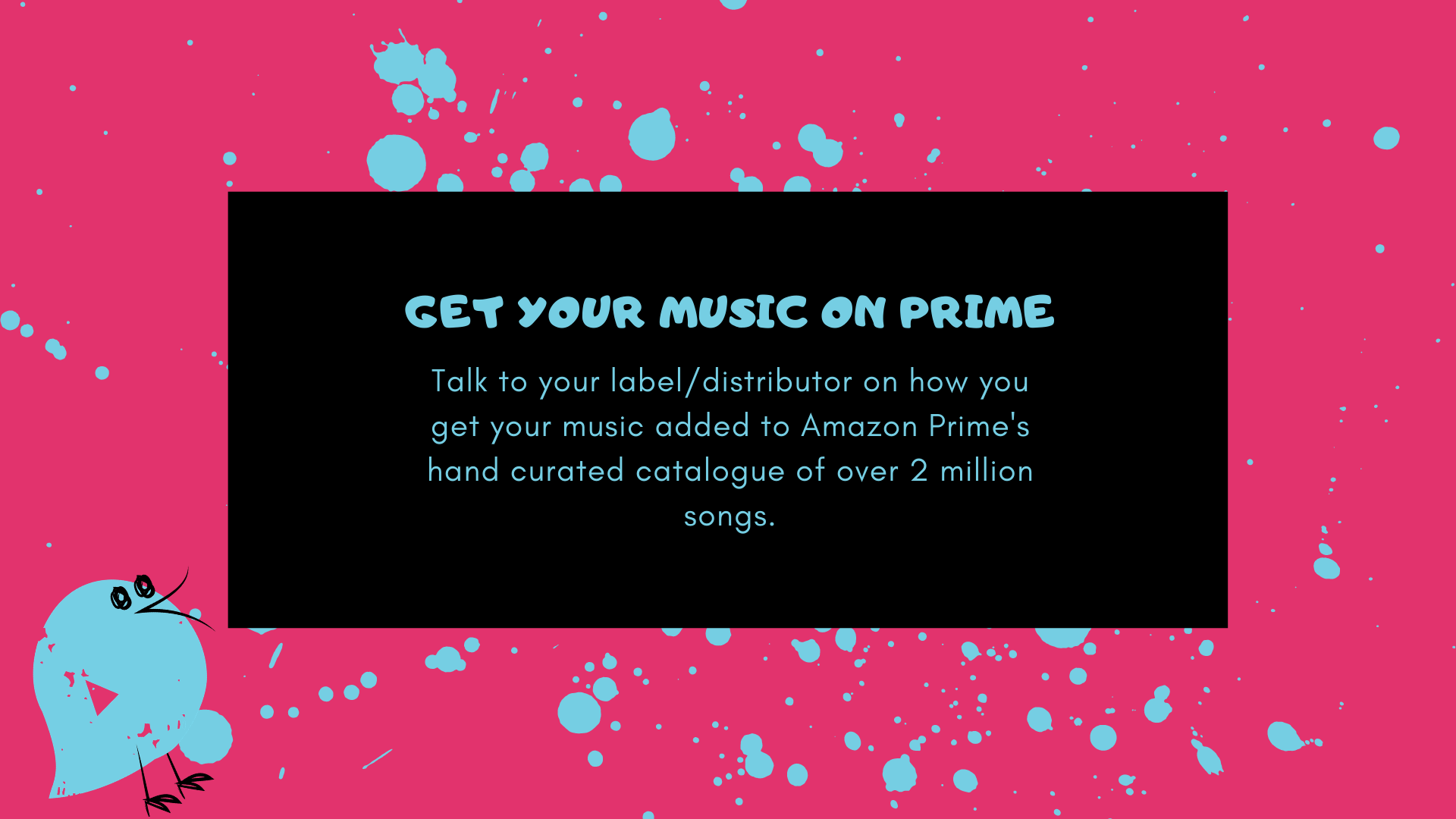 Your best chance of getting your Music onto Amazon Prime is talking to your label or distributor, unless you have an inside man at Amazon...
Talk to them about why you want the music on Prime, how it will benefit the platform, and ask them to push your most valued music. 
Want More of This? 
Yes we're a children's music company BUT we have so much more to offer.
Marketing services, music promotion, Website Design, SEO, social media marketing are just a few of things we love to discuss, advise and offer! 
For queries, requests or even a friendly chat:
email: admin@piccolomusic.co.uk
Phone: 0191 251 8740
Instagram: @sing_with_Piccolo
Facebook: @Singwithpiccolo
P.S. If you are interested in using our Music, head HERE to get your Free Music License to use our catalogue of over 200 award-winning songs in venues and online...